Staff
Evan Slocum (President):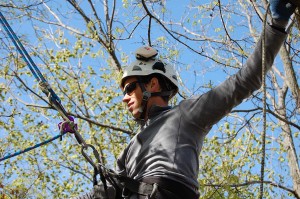 Evan is one of the founders of the Urban Tree Alliance and serves as the president. He is an ISA certified master arborist whose work experience includes both governmental institutions (New York City Parks Department, City of Madison, Wisconsin Department of Agriculture, Trade, and Consumer Protection) and private tree care companies.
After a long day spent pruning every twig of deadwood from a small black gum on a sprawling estate and then bicycling home past standing dead elms over playgrounds in less affluent parts of the city, Evan first conjured ideas of finding a way to provide tree care to those who can't typically afford it. Most recently he completed a Master of Science degree at UW-Madison where he studied how current planting trends are shaping the future composition, structure, and ecosystem services of the Madison Area Urban forest.  He is interested in finding ways to help private property owners manage their trees, coordinating regional management of urban forests, and informing the public about the benefits of trees in the urban environment.
Email: evan (at) urbantreealliance.org
Phone: (608)-609-1005
Jeremy Kane (Associate Director):
Jeremy joined the UTA with a dozen years experience in landscape planning and construction. He's had opportunities to work in endeavors as diverse as greenroof construction in New York City, land project management for a land trust, and supervising tree production on a 400-acre nursery. He's even helped build luxury tree houses and cut his teeth as an arborist in central Florida. His research and teaching experiences have focused on the landscape and methods of analysis. He also works with Evan as an arborist.
Jeremy pursued arboriculture as a way of working directly with the urban landscape. From pruning to developing tree canopy models, he appreciates work that he can learn from and contributes to the health of the canopy. Even when he's not working, he often finds himself strolling around Madison's neighborhoods looking at up, at trees.  He is otherwise usually found venturing around the surrounding city, cliffs, and parks with his family.
Please feel free to contact him with questions or thoughts about the canopy or the UTA.
Email: jeremy (at) urbantreealliance.org
Phone: (608)-556-5331
Board Members:
Alexis Bourgeois
Mike Fisher
Mary Pelzer
Jo Reis
Patricia (Lundquist) Chakravorty